Amateur Radio License Classes
Fall 2019 LARG Amateur Radio Class Announced!
The LARG Education Committee plans to hold a series of eight weekly class sessions plus a testing date for the beginner Technician Class Amateur Radio License starting on September 26, 2019.
The class sessions will be held on Thursdays from 6 to 8:30 PM at the Leesburg VFW Hall, 401 Old Waterford Road, Leesburg, VA 20175. The license examination session will be held on the Saturday, November 16th, 2019, after the last Thursday class session.
Experienced Radio Amateurs will give students the information needed to be able to pass the Technician Class license test. Information will also be provided on what you need to do to upgrade your license to the next level — the General Class license. Obtaining the General Class license requires that you have already passed the Technician level exam and currently hold a valid Technician license.
Registration for the class will begin on 28 August 2019 and will close on 18 September 2019, a week before the class starts. Register early as class size will be limited. If the class size is exceeded we will put you on a waiting list and contact you if a slot becomes available.
You must purchase, and have in your possession prior to the start of classes, the ARRL Ham Radio License Manual (for Level 1 Technician). There are other authors who publish "License Manuals" but we will use the ARRL manual for this class. You can purchase it from the ARRL (http://www.arrl.org/shop/Ham-Radio-License-Manual/?page=1) or another outlet that sells them (e.g., Ham Radio Outlet, Amazon). Be sure to buy the 4th Edition which is the current edition.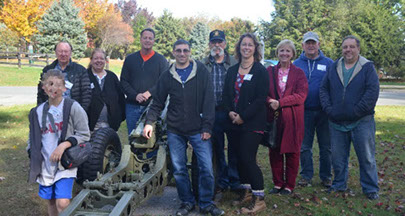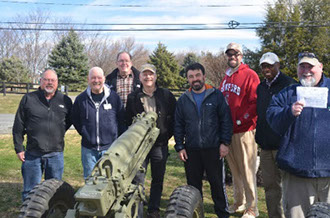 Pictured above are some of the newly licensed Hams from our Fall 2017 Technician and Spring 2018 Extra classes.
Registering for the Class
Register for the class by printing the registration form and completing it (the link is found below). The fee for the course is $20.00 which will be applied to the license testing session if the student completes the licensing class. Send your registration form along with your check made out to the "Loudoun Amateur Radio Group" to The Loudoun Amateur Radio Group, PO Box 1004, Purcellville, VA 20134. (Note: do not mail your registration to the VFW.)
Click on this link to go to the registration form and print it.
Registration forms and fee must be received by 18 September 2019.
If you have any questions, contact the committee at education@k4lrg.org.
Sample Test Websites
In addition to studying for your license exam with your License Manual, there are free sample tests available on-line to help you prepare to take your license examination as you near the completion of your training course. The URLs for some of them are listed below without any preference for quality or completeness or explanation of what might be the correct answer to any particular question:
If you use one of these sites now or have used one or more of them in the past, please let us know which ones you like the best. Also, if you know of other sites that you like and they are not listed here, please let us know. Email us at education@k4lrg.org and we will add them.
---
Do you want to volunteer to help with instruction in the LARG Amateur Radio Licensing classes?
Click on this link to see LARG's instructor criteria.
Contact the LARG Education Committee to volunteer.
2019 LARG Education Committee Members
Use education@k4lrg.org to contact the committee.