Amateur Radio License Classes
Winter 2021 LARG Amateur Radio Class Announced!
NOTE: Out of an abundance of caution during this time of the viral contagion, the LARG Education Committee will be holding the Winter 2021 class on-line using the Zoom application. In-person classes will resume in the future at such time as large groups are permitted to gather based on public health considerations.
The LARG Education Committee plans to conduct a series of ten class sessions, two per week, plus a testing date for the General Class Amateur Radio License, beginning March 1, 2021, with the last class being on March 31, 2021.
Experienced Radio Amateurs will give students the information needed to enable them to pass the General Class license test, as well as much of the knowledge required to get their station on the air.
The class sessions will be held on Mondays and Wednesdays from 6 to 8:30 PM on-line using the Zoom application. After registering for the class, you will be emailed the necessary information for each session to join the on-line class. Information about the license examination session will be given to students prior to the last class.
Registration (see details below) for the class begins now and will close on March 1, 2021 at noon so that the committee will have time to send you the Zoom information prior to the first class time; 6:00 PM that day. Register early as class size will be limited. If the class size is exceeded we will put you on a waiting list and contact you if a slot becomes available.
You must purchase, and have in your possession prior to the start of classes, the ARRL Ham Radio License Manual (for Level 2 General Class). There are other authors who publish "License Manuals" but we will use the ARRL manual for this class, and we recommend purchasing the spiral bound format. You can purchase it from the ARRL (http://www.arrl.org/shop/Ham-Radio-License-Manual/) or another outlet that sells them (e.g., Ham Radio Outlet, Amazon). Be sure to buy the 9th Edition which is the current edition. Updates to the 9th edition can be found here: http://www.arrl.org/ham-radio-license-manual.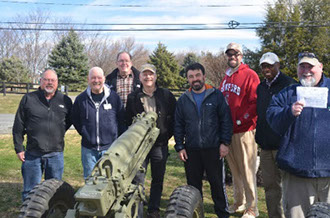 Pictured above are some of the newly upgraded Hams from a previous Amateur Extra class.
Registering for the Class
Registration forms and fee must be received by 1 March 2021.
Register for the class by printing the registration form and completing it (the link is found below). Send your registration form to the "Loudoun Amateur Radio Group" to The Loudoun Amateur Radio Group, PO Box 1004, Purcellville, VA 20134. You may also scan your completed registration form and email it to [email protected]
Click on this link to go to the registration form and print it.
If you have any questions, contact the committee at [email protected].
Sample Test Websites
In addition to studying for your license exam with your License Manual, there are free sample tests available on-line to help you prepare to take your license examination as you near the completion of your training course. The URLs for some of them are listed below without any preference for quality or completeness or explanation of what might be the correct answer to any particular question:
If you use one of these sites now or have used one or more of them in the past, please let us know which ones you like the best. Also, if you know of other sites that you like and they are not listed here, please let us know. Email us at [email protected] and we will add them.
---
Do you want to volunteer to help with instruction in the LARG Amateur Radio Licensing classes?
Click on this link to see LARG's instructor criteria.
Contact the LARG Education Committee to volunteer.
2021 LARG Education Committee Members
Use [email protected] to contact the committee.
Updated 21 September 2020