Communications Support For Riders Of The Reston Century
2019 is host to the 37th Annual Reston Bicycle Club's Century Ride on the trails and roads of Loudoun County. This year's century is planned rain or shine to occur on Sunday August 25th from 6AM to 5PM. This is the last Sunday in August.
The net will open at 6am and continue until our services are no longer needed. So update your calendar as soon as you can!!
Here is the schedule as it's shaping up today:
Reston Town Center Rest stop – 6:00 AM – 5:00 PM
Ashburn Rest stop – 8:00 AM – 4:00 PM
Leesburg Rest Stop – 7:30 AM – 12:30 PM
Purcellville Rest Stop – 8:30 AM – 12:30 PM
Old Mill Rest Stop – 10:00 AM – 3:00 PM
Lovettsville Rest Stop (Full Century Riders only) – 9:00 AM – 1:30 P
SAG Mechanics and Ride Marshalls – 6:00 AM – 5:00 PM
This is the large public service and emergency training exercise for the Loudoun Amateur Radio Group. Our volunteers look forward to this operation and a chance to practice our emergency radio skills. All volunteers are welcomed!
This SignUpGenius was used to coordinate the even. Each of the "slots", SAGs and stations will likely be used again unless the bike club changes their operational plans significantly. You can review the SignUpGenius to get a good idea of how this event will unfold. Much of the event details are listed there.
Here is the Operation Plan for the ride event. You can expect updates to this plan right up to the day before the event.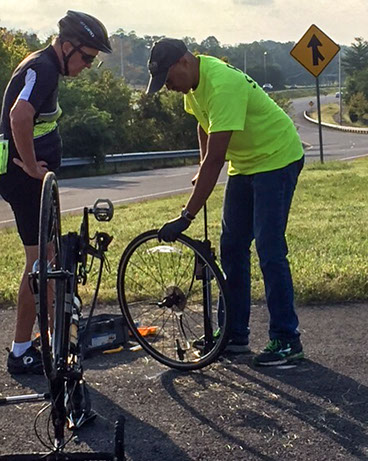 ON AIR PLANNING: There will be an on-air planning meeting on a date to be determined for all of us to get on the air and ask questions and otherwise do some organizing together. We'll meet on a frequency that will be published soon.
PLANNING MEETING: The folks at the Reston Bike Club will set up a meeting for all SAG/Bike Marshalls to review route coverage, hand out SAG/Marshall goodies, and generally meet and discuss goings on/duties of the day. The meeting date and venue are to be determined.
Typically we will meet at this venue:
Herndon Fortnight Library
768 Center St.
Herndon, VA 20170
703-437-8855
If you have signed up for any part of the event feel free to come to this meeting and learn more about the organization of the event. Please note that I (John Westerman) can not make this meeting. Paulson McIntyre is taking the lead on this for LARG.
If you want to view a few photos collected from the 2017 event you can find them here.